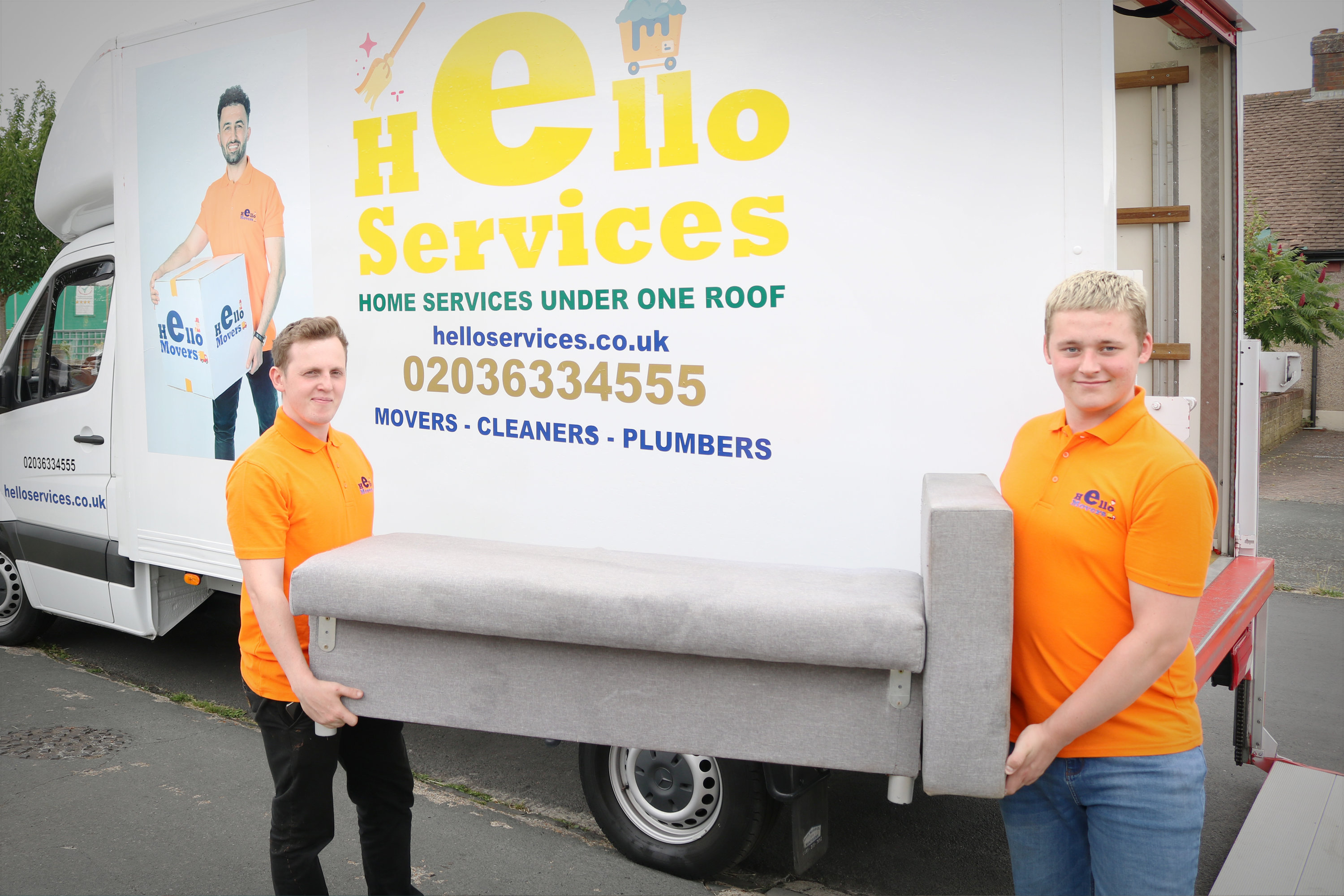 Don't Move it yourself
Removals London
All of us, at some point in life, have to move from one place to another due to any reason
Hiring a professional
Choose Our Experts For Removals London
Research shows that tens of thousands of individuals move every year. However, when ask them to recall their removals experience, there will be a mixture of a good and bad experience. People who had an unpleasant experience surely do not want to repeat it. So if you want to enjoy your experience, then hire Hello Movers for removals London service as we can turn your challenging relocation process into a smooth and hassle-free one.
Without any doubt, hire our experienced movers for any size of the property. We have provided our removal services to several customers and have been successful in achieving customer satisfaction. Also, you can save a good amount of money as we offer affordable prices.
Have a busy schedule?
Our after Removal Service is designed to make our customer's life easier.
Book now
Inclusive House and Office Removals
London Services
When you are moving house in London, you want a reliable service of the best removal company in London that can move your stuff safely. Hello Movers can do it for you at a fraction of the price and exceed your expectations. Everyone understands that moving is a stressful task, and it becomes even more aggravating when you are searching for a company to assist you. We promise our customers the best service.
24/7 Removal Service for any size Move
At Hello Movers, it does not matter whether you are shifting a few items or entire contents of the property because, with our enthusiasm and passion for solving any challenge, we can do it. We are in this industry for many years, so we are capable of identifying customers inexplicit desires and needs and in doing so, achieve their lifelong trust.
Best London Removals Service
We provide affordable prices on both part or full-scale removals in London, and we specialise in all types of moves. So whether you are moving a single room flat or five rooms house, we have got you covered.
Our professional movers and packers can also assist you in packing your valuable items to keep them safe from any damage.
We are a reliable removal company in East London so you can rely on us as we will not attempt to disguise slow service behind hidden prices. Hello Movers offers affordability and integrity in each part of the house removals service that we provide across London and beyond.
Make a Happy Move With Hello Movers
Hello Movers have years of experience and have conducted many moves. So we can confidently say that we possess profound knowledge and expertise that enable us to make any move a hassle-free and smooth one for our customers. Also, keep in mind that the removal service will be carried out at the most convenient time.
Our aim is to give the highest standard services to our customers and to ensure this we establish a perfect communication with our customers. The moment you call us, we prepare ourselves to do the best we can. We ask several questions, so we have an idea and full information related to the move like how much stuff needs to be moved, fragile and bulky furniture, the address of your place and the time at which the movers have to come.
We do our best and go the extra mile to achieve customer expectations. Most customers ask us to dismantle their furniture, and our movers are proficient in doing that as well.
Let us Plan your London Removals
We assure you that our home removals service is second to none. At Hello Movers, our goal is simple, and that is to make your shifting easier for you. We are professional house movers, office movers, and furniture removals in London. Moreover, we possess cutting-edge equipment and tools so our specialist team can get the job done safely and efficiently.
In addition, we also provide removals quotes in London, so you know what you have to pay in the end. We have transparent prices, which means that there are no hidden charges, and what we quote is what you have to pay. Most removals companies prices are exorbitant, and the quality of service is low. However, that is not the case with us. We also customise our services for each customer and encourage them to discuss with us what they want.
For House Moving prices please  send us an inventory.
Below prices are just guide Prices.
Studio flat from £110
Offices, warehouses, commercial?
-
If you are a construction company, have more than one property, your property size is not listed, please contact us on the link below.
Request a Quote
Area We Cover
Hello Services is pleased to offer its extensive Removals Services at the following areas. We are looking to expand, if your area is not listed below then please check back later.
Reschedule upcoming service jobs
You can change, the time and date of an upcoming scheduled jobs by contacting our office, you can do that by emailing our office at info@helloservices.co.uk. We do 12 hours notice to reschedule a booked job. If you change the time or date in less than 12 hours then additional charge will occur.
You can cancel upcoming service job by contacting our office during our working hours or 24/7 on our live chat. You can also do that by emailing us at info@helloservices.co.uk then we will email you back with a cancellation notice.
How can I rate the service received?
You can leave your feedback about the service you have received by calling our office. We are always here to hear from customers. You may also leave your feedback on our Trustpilot Page Hello Services.
Do I need to pay before the service day?
You don't have to pay prior the service day, You can make the payment on the service day. However if you prefer to make the payment in advance you can do that in certain ways which is described in question 5.
What are the methods of payment.
We accept varies payment methods which include:
Cash Payment,
Bank Transfer to our company's bank account
Card Payment over the phone
You can also visit our website and make online booking.
What is the availability like?
We normally have availability for short notice jobs as well. However, we recommend you book 2 days in advance. Note: We can accommodate same day and emergency jobs too.
How do I get a receipt for the service I have received.
All our receipts and invoices are done electronically, so as soon as the job completed you will get a receipt to your email address.
What happens if something is damaged?
In an unlike event of damage to any possessions caused by us, we are insured up to £1,000,000.